Hey everyone, Travis here. That chatty, hyper old ginger from Ulfnar.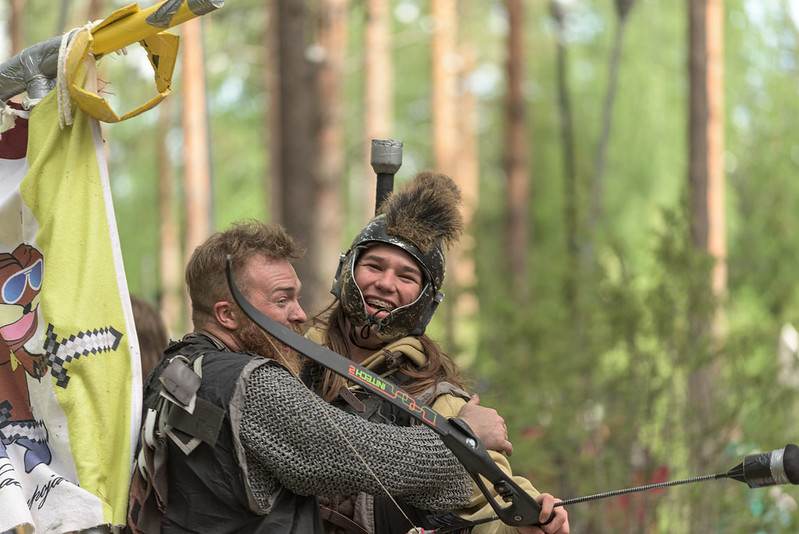 Photo: Jari Kuskelin
My adventure in boffering began over five years ago, when my long time friend Holtsi brought me into Ulfnar. Flash forward a few years and there I was, having to move back to my surrogate homeland of Switzerland, and having truly fallen head over heels for this sport I had to ask myself the question, "is it over?"
I knew that I'd have plenty of folks back home that would want to at least try it out. I went to Holtsi, who was Ulfnar's quartermaster at the time and said I want to try and bring the sport with me. His response, "whatever you need," supplied me with gear to get started and off we went.
We landed right on the outbreak of COVID, and as for all of us that was one sizable speed bump. From the first day, I saw the general and cultural response of my Helvetic country men and the international community of my town was one of immediate enthusiastic infatuation. Pretty soon I had a small multinationale group showing up every week to pummel each other and have a laugh.
The part that really gave me the indication that there is potential is when members from my own team began to visit Switzerland, help work on gear and try out the locals' mettle. Ulfnar's own Holtsi, Paula, Axu, Topi, Harri came down for vacations, fighting on mountain plateaus overlooking the Lac Lemans and fighting in a small roman arena we have in our region. Not a recreation, the real deal. 
Next we had members from a second team coming down here and swinging weapons, Eetu Sipilä, Ruska Mäki, Niko Aarnio, Veeti Sipilä and Eugenio Colaneri from Ajan Kaarti. As their style and tactical approach is very different from my own, this was an excellent demonstration to the diversity of the sport.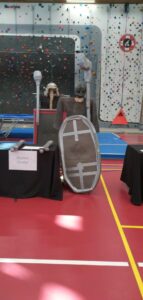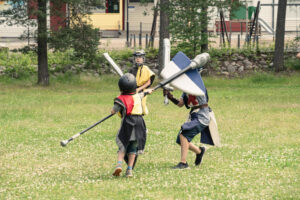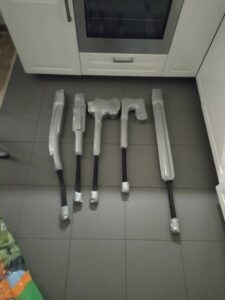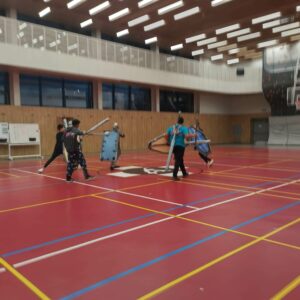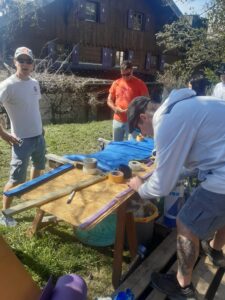 Photos: Travis Finneran, Liisa Salonen
Not long after this my efforts garnered attention from some students of the international private school here in Leysin, wanting to have at it with these padded clubs of ours. Nearly immediately, this school offered me employment to instruct boffering, with a yearly budget for purchasing materials and repairs. Members of the schools faculty also became immediately interested in a group for ages 10 and under. By that spring, we had our first all day 10 vs 10 boffering birthday with parents overjoyed with the results. 
This has been my last two years: the launch of the swiss boffering association. Our goal is simple, to integrate boffering into Switzerland using a full unaltered translation of all rules and regulations in Finland. 
We want to have as seamless a transition between participants from the two sectors as possible. I regretfully have had to make a small descriptive modification here. The terms "boffering" and "soft/padded fencing", truly confused the international participants here, but when applying the term "padded combat", people began to have a more accurate picture to what this sport entails. 
Our goal now is recruiting en mass, focusing on medieval events, HEMA trainings and LARP gatherings, and aim to have events beginning in 2025/26. We have areas such as mountain plateaus and smaller roman amphitheatres. And finally for anyone interested in coming down, we have all the gear you need!
All that being said, we Swiss Mercenaires will see you at Sotahuuto!